We know American actor Jamie McShane best for his work on Sons of Anarchy, Southland, and Bloodline. Also, his role as Agent Jackson in the Marvel Cinematic Universe (MCU) movies The Avengers and Thor, is a hit. He showed up on the crime drama CSI: Vegas in 2021. In fact, he played Det. Lankford in The Lincoln Lawyer on Netflix in 2022. And, he played the role of Sheriff Galpin in the TV series Wednesday.
Along with his four siblings, Jamie McShane was born and grew up in Northern New Jersey. At the University of Richmond, McShane earned his BA in English in the year 1988.
Biography
| | |
| --- | --- |
| Full name | Jamie McShane |
| Gender | Male |
| Age | 59 Years Old |
| Birth date | 18th July, 1964 |
| Birthplace | New Jersey, USA |
| Nationality | American |
| Profession | Actor |
Jamie McShane Movies and TV shows
In Tim Burton's wildly popular Netflix series Wednesday, Jamie McShane plays the supporting character. The show is a spin-off of the renowned Addams Family saga and is penned by Al Gough & Miles Millar.
With Ben Mendelsohn, Kyle Chandler, and Sissy Spacek, Jamie is most known for his part as Eric O'Bannon. He played this role on the Netflix thriller Bloodline. Jamie has a role in the Oscar-nominated Netflix movie Mank. This movie was directed by David Fincher, based on the famous Hollywood screenwriter Herman J. Mankiewicz.  He co-wrote Citizen Kane with Orson Welles. In fact,  Jamie and David Fincher set up on Fincher's scary film Gone Girl, marking their second time acting together.
Read Also : Joy Sunday
Other film credits include Dan Gilroy's Nightcrawler, Hostage, and Gridiron Gang. Also, we saw him in Pride and Glory, Marvel's The Avengers, Marvel's Thor, and ARGO (multi Oscar winner, including Best Picture). In fact, Jamie played the lead role in the indie film Busman's Holiday. However, this was a passion project that the creators filmed in different locations. For example, in  Ireland, Norway, Italy, India, Tanzania, and Australia. In the end, Amazon aired the movie.
Jamie McShane in Wednesday
Sheriff Donovan Galpin is played by Jamie McShane on Wednesday. Tyler's father is Sheriff Galpin. Jamie has been most known for his roles on Netflix's Sons of Anarchy, Bloodline, The Fosters, The Lincoln Lawyer, and Bloodline. Moreover, he also starred in Thor and The Avengers as S.H.I.E.L.D. Agent Jackson.
Sheriff Donovan Galpin, played by Jamie McShane, has no regard for Wednesday's father Gomez or even Nevermore Academy. He has a grudge against Nevermore Academy in total. So, he would like to see it shut. Fans may know Jamie from Southland, Bloodline, and Sons of Anarchy.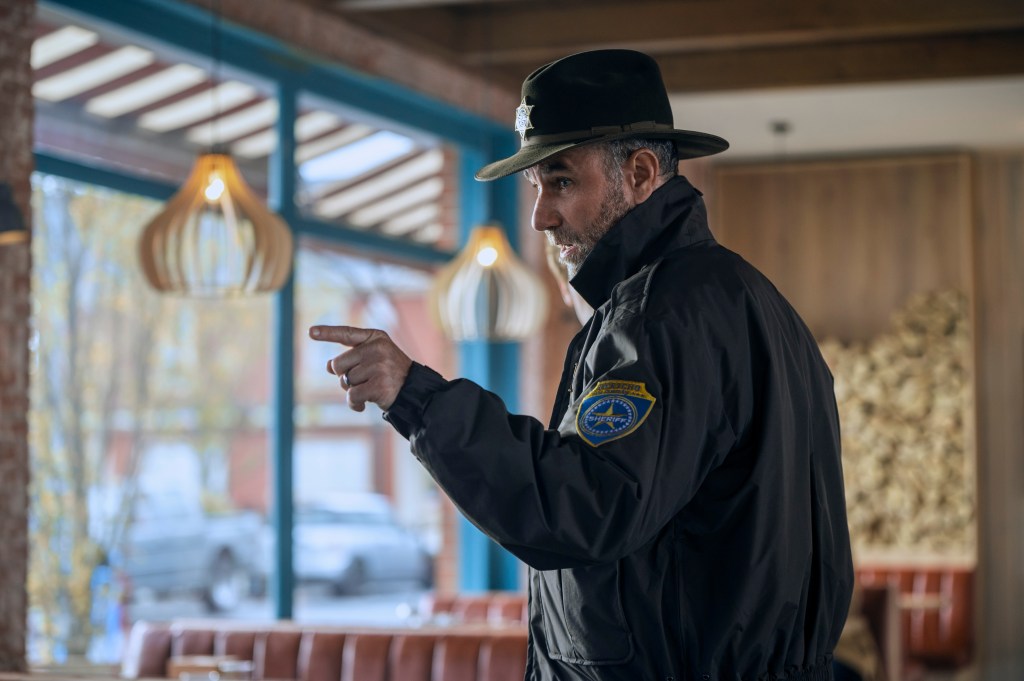 People saw Gomez Addams, his spouse Morticia, their children, and other members of the family in the hit 1964 TV show, The Addams Family. Of course, it has drawn the interest of millions. Due to the 1990s films The Addams Family as well as the Addams Family Values, the fandom grew over the years. Even animated films have the odd family in them. One hugely important character, Wednesday Addams, is still not well understood by the public but seen in all these different forms of the gang. Renowned director Tim Burton makes way for viewers to comprehend her deal. And, that is what he does in the brand-new Netflix series Wednesday.
The young Wednesday who has been attempting to stay at school is the focus  of the online series. She ends up going to Nevermore Academy, where her parents first met and fell for each other as a result of their decision. There, Wednesday is handling a brand-new setting. There  she learns that her family is holding a sinister secret. Thus, the situation becomes much more sticky. She must solve a mystery featuring "serial killers, murders, and monsters" just to save her dear ones.
Jamie McShane in Avengers
In The Avengers and Thor, Jamie McShane plays a Celebration Montage Interviewee. S.H.I.E.L.D. agent Agent Jackson worked out of the S.H.I.E.L.D. Crater Research Site.
At the S.H.I.E.L.D. Crater Investigation Site in Mexico, they put Jackson. Here, S.H.I.E.L.D. was looking into the 0-8-4  Jackson and Delancey were in charge of safety. And, Phil Coulson gave them the go-ahead to look into a likely perimeter breach. Of course, Thor was able to take them both down.
In order to protect the study on a weird hammer that had fallen in New Mexico, Jackson was sent to the investigation site. Jackson was on duty as a site guard. And, that is when Thor got into the location and left Jackson helpless.
Jamie McShane in Bloodline
American actor Jamie McShane portrays Eric O'Bannon in the hit show Bloodline.
Todd A. Kessler, Glenn Kessler, and Daniel Zelman created and directed the American Netflix original thriller drama series Bloodline. And, they did it under the Sony Pictures Television banner. The 13-episode first season aired in full on Netflix on March 20, 2015. That was after the series' February 9, 2015, premiere in the Berlinale Special Galas section. It was a part of the 65th Berlin International Film Festival. Bloodline got a 10-episode second season pickup on March 31, 2015. The first episode aired on May 27, 2016. Bloodline got a third, 10-episode season on Netflix on July 13, 2016. In fact, they later revealed it to be the series' last. On May 26, 2017, the third and final series was made available.
Many critics gave the first season good reviews. In fact, the bulk praised the cinematography and acting, especially those of Ben Mendelsohn and Kyle Chandler. However, The second and third seasons, drew varying reviews from critics.
The show is based on the true story of South African-born Dr. Colin Bouwer. He used his medical expertise to murder and kill his wife Annette. This 2010 tv series stars Mark Mitchinson. His scheme to get away with the crime was halted by a doctor and cops from Dunedin.
Jamie McShane in The Lincoln Lawyer
The narrative is based on the first of several novels that feature the character Mickey Haller. He commutes to work in a car service's Lincoln Town Car. A rich Los Angeles lady hires Haller to defend her son in an assault lawsuit. Uncomfortable  similarities between the crime's details and another case arise. And, Haller finds that the two bits are tied.
The movie was made free on March 18, 2011. It made $87 million and got mostly good reviews.
In the rear of his black Lincoln Town Car, driven by Earl Briggs, criminal defence lawyer Mickey Haller does work in LA County, California. In fact, he often serves low-level crooks like Eddie Vogel. And, even the biker gang's boss. Maggie McPherson, his ex-wife and mom of their kid, is a district attorney and does not like his clientele.
Louis Roulet, a rich Beverly Hills boy and the child of real estate tycoon Mary Windsor, suddenly hires Haller to defend him. Surprisingly, Roulet picked Haller specially for the case. However, they did this after being accused of viciously beating prostitute Regina Campo. Using images and other pieces of evidence, Haller and his detective Frank Levin find a few weird things. They discover links to another murder case involving a prostitute. Haller  defended  Jesus Martinez. He did this, in spite of Martinez's earnest claims of guilt and the weight of the evidence. That got  Martinez to enter a guilty plea in order to avoid the death penalty.
Jamie McShane in The Passage
Based on Justin Cronin's trilogy of novels, The Passage is a thriller tv show made in the United States. Here, Amy Bellafonte goes from being used in a federal program to saving humanity in a post-apocalyptic vampire future. And it takes place over a period of time. On January 14, 2019, the show aired. However, on May 10, 2019, they canceled The Passage after one season.
The plot of The Passage centres on Project Noah. Here, it is a covert medical facility where doctors are testing a deadly virus. In fact, the virus has the ability to both cure all diseases and kill the human race. Federal Agent Brad Wolgast is charged with taking Amy Bellafonte, a young girl, to Project Noah. This is quite after they pick her to be a test subject. Wolgast soon takes on the role of her adoptive father. And, he tries to safeguard her at all costs. Through their voyage, Major Nichole Sykes, the lead scientist for Project Noah, and Brad's skilled ex-CIA agent Clark Richards, who is in charge of the operations, will have to face off against Brad and Amy.
They also come into contact with a scary new race of creatures. Of course, they have housed them inside Project Noah. This includes Tim Fanning, a former scientist, and Shauna Babcock, a death row inmate. On the other hand, these new beings start to test their own abilities as Project Noah's doctors close down on a therapy that might rescue humanity. Thus, they move a bit closer to an exodus. However, it might bring about an awful Disaster.
Is Jamie McShane Related To Ian McShane?
We know American actor Jamie McShane best for his role as Agent Jackson in the Marvel films Thor and The Avengers. Also, he played roles in Southland, Sons of Anarchy, and other shows. While he has set himself in the field, there have been a lot of strange queries about his personal life.
In actuality, Jamie and Ian are not at all related. In actuality, Jamie is American and Ian is English; they are 2 distinct nationalities.
Of course, the only item the two have in common is that they are both actors with the last name McShane. And that is the chief factor that caused both performers to be thought of as the same. That is, in terms of their blood relation.
But the truth is that Jamie and Ian are not biologically related at all. In fact, they have also never acted together in a film.
Who is The Meanest Man in Texas based on?
This piece is the actual tale of Clyde Thompson. In 1928, cops found him guilty of several murders and gave him the death penalty, But, they miraculously released him on parole. Also, the show is based on the book "The Meanest Man in Texas." Jamie McShane also played a role in this hit drama.
In fact, Clyde Thompson, a convicted killer, is executed for killing two men in Texas in the year 1928. Thompson is known as the rudest man in the nation And, it is .after the governor decides to spare his life while he is doing hard manual labor in prison. Initially, they gave  Thompson three life sentences for additional crimes. But, he quickly turns his life around by reading the Bible. Here, he trained to be a chaplain, and fell in love with Julia Perryman.
FAQs
Where is Jamie McShane from?
Along with his four siblings, Jamie McShane took birth and grew up in Northern New Jersey. At the College of Richmond, McShane earned his BA in English majors in 1988.
Is Jamie McShane in the Fosters?
Yes, he plays a part in the Tv series The Fosters. Here, he plays Donald Jacob in this family series.
Who did Ana get pregnant by in The Fosters?
It is unknown who Isabella's father is. Mike, who is also the father of Brandon, was thought to be the father of Ana's child at the start of season 2B. Ana does not identify the father, though, and later claims that he is not.
Is Jamie McShane married?
The love story of their favourite celebrities is something that people today are highly keen on learning. On the list, we can see that one of the queries is for Jamie Mcshane's wife. His fans were curious to find out if he was dating or living with a partner. As far as we know,  Jamie Mcshane is single.
Is there going to be a season 2 of The Passage?
The Passage, a vampire drama series based on Justin Cronin's books. Howevwe, it will not return for a second season on Fox. The news is hardly shocking.
How did The Passage end?
Liz Heldens' version of Justin Cronin's trilogy of novels, "The Passage," was a great hit. In fact, the show leaped forward to 2116 to show what the world was like 100 years after Project Noah's virals escaped. Of course, the show ended. And, it claimed a promise made at the very start of the new content.