Malu Trevejo is a young star in the world of music. She started her journey through music sharing app named Music.ly. At the age of 18, she is quite famous, especially on social media platforms. Moreover, she is gaining fame since her teenage. Consequently, people are curious about this young singer. Malu Trevejo is a talented singer. She is also known for her dance and acting.
So, let's see her career graph in the next segment.
Social Media Sensation Malu Trevejo
Malu Trevejo joined social media in late 2014 when her age was 12. She started gaming popularity over these platforms in 2015. Currently, she has 10.5 million followers on her Instagram account @malutrevejo. It is a new account which she started in December 2020 and posted 50 pictures till now. Mostly, she used to post her solo pictures. She was looking hot in her recent photo posted on 17th July.
Malu has had her YouTube channel since 2017. She joined YouTube on Joined 12 Jun 2017. By now, she has 1.4 million subscribers. All her music videos are available on the Malu Trevejo channel. Also, there are Musicl.ly compilations, behind the scenes clips and upcoming news video playlists. In the channel bio, it is mentioned that Malu is unique and she is going to imprint a long-lasting effect on the world.
Moreover, this young singer has a Facebook page, Malu Trevejo which has 750k+ followers. She and her team keep posting about her performances. She has her Twitter account and Vevo. Previously, Malu used to post her videos on Music.ly. After that, it was owned by Tiktok.
With the sensation, there are controversies as well. If you want to know what exactly Malu said and what are the impacts, scroll down to the next paragraph.
Controversies about Malu Trevejo's comment about Corona Vaccine
In one of her Instagram live videos, Malu behaved like a racist. She told that whenever she saw a Chinese, she just doesn't breathe as they are the virus spreader. According to Malu, they are spreading the Chinese virus. The viewers got offended and asked her to apologize. After many discussions on social media and news, Malu apologized for her comment.
Malu's Career Graph
Malu released her first singles Luna Llena in 2017. The FlipTones produced this album. To add on, this video hit 33 million YouTube views within seven weeks of release. This is her breakthrough in her music career. She decided to make song albums in Spanglish (that includes both Spanish and English language). In the same year, Malu signed a contract with In-Tu Linea. This company works under the Universal Music Latin Entertainment label. This song ranked 27 on the Billboard Hot Latin Songs chart. Luna Llena became so popular that Malu made a remake (English version). Malu made a single En Mi Mente in the same year as well.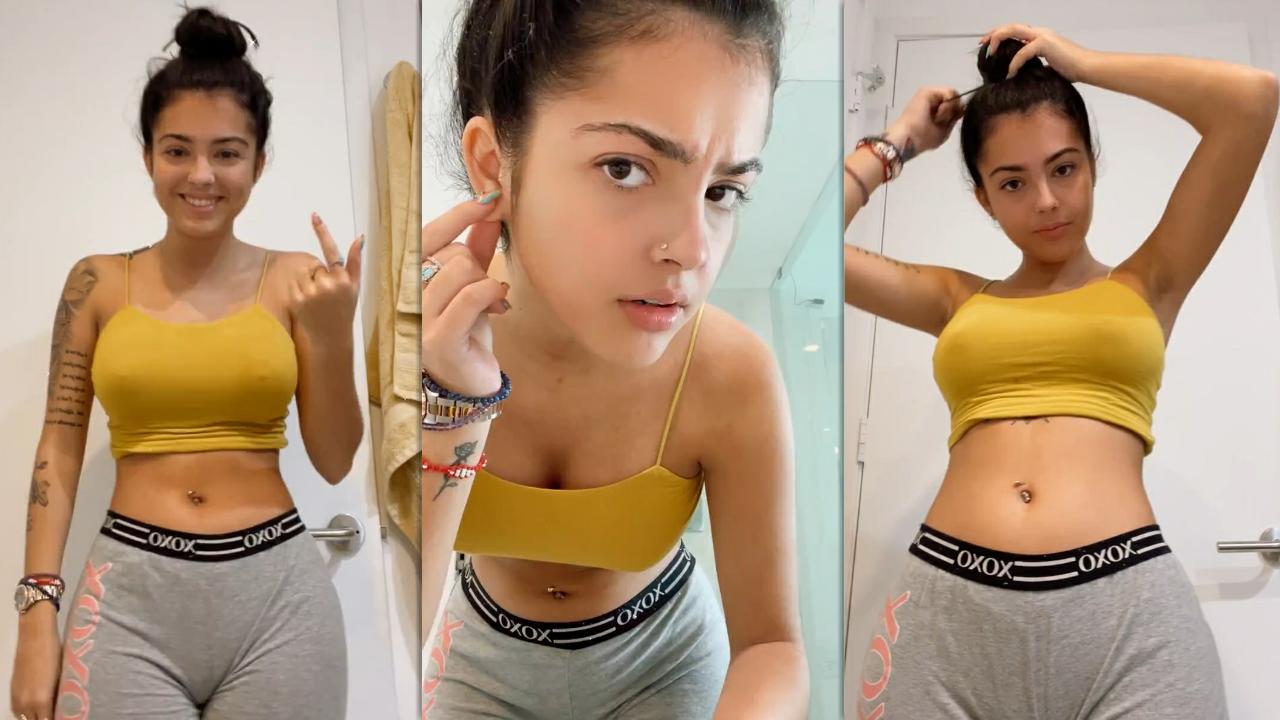 In 2018, Malu Treveja made her first album. The name was Can Anybody Hear Me? Also, she made a single Swipe Dat. In 2019, Malu worked on five different music projects. Among them, she collaborated with Andrea Damante featuring Yung Miami in Think About. Also, she worked in Hace Calor with Jeon. This year, Malu released her first EP Una Vez Mas. The release date was 2 August 2019. It is available for streaming and digital downloads. Una Ve Mas is under BMG Rights Management.
When Malu joined the Music.ly platform, she shared her music videos. From there, people liked her performance at the beginning. After that, Music.ly changed to Tiktok. Currently, she is famous as an Instagram personality. She visited the Hollywood Walk of Fame in 2017. She has her own website as well. Her songs are available on multiple platforms including Spotify, Apple Music, Amazon Prime, Pandora, Tidal, etc. However, it seems like the website is not updated for a long time.
Recent Works Of Malu Trevejo

Malu worked in three non-album singles in 2020. They are Pa La Calle, Walking in the Club, and A lo Malu. Currently, there is no news about her upcoming projects in 2021. In addition, Pandora's Radio recognised Malu Treveja as one of the Latin artists to watch in 2018.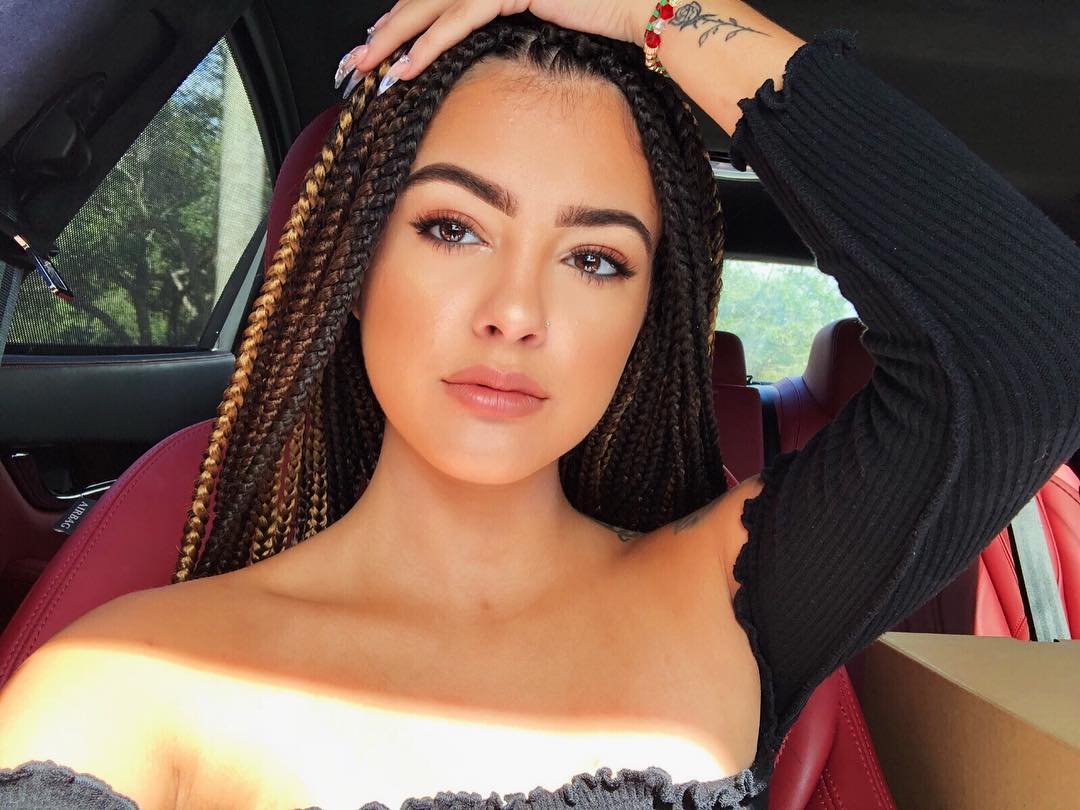 So, you want to know how is her life before getting famous? Let's find out.
Early Life of Malu Trevejo
Malu doesn't like to discuss her family or early life much. All we know is that she was born in Havana, Cuba on October 15, 2002. She didn't reveal anything about her parents and family. She has a sister and she is her best friend. Malu spent 11 years in Madrid, Spain. Afterwards, she moved to Florida, the USA with her mother at the age of 13.
When Malu lived in Madrid, she had an interest in acting. Malu used to do skit videos with her friends and her parents record them. She had an interest in belly dancing and in her videos, she used to dance with the songs. She completed her school studies from home. As Malu informed, she was treated differently after getting famous. So, she couldn't continue her studies at school. However, she enjoyed this life. Malu is an undergraduate.
Relationship Status
There was a rumour that Malu Trevejo is dating renowned American rapper NBA YoungBoy around mid-2017. But she didn't reveal anything officially. Once Malu shared that, she is bisexual and attracted more towards girls.
Then, Malu was in a relationship with Jaden Rosa in 2018 followed by Danny Alfonso in 2019 
Trivia On Malu Trevejo

Malu Trevejo is inspired by Jennifer Lopez and her favourite actress is Jennifer Aniston. Apart from singing, she loves to dance and play golfs.
As of 2021, Malu's net worth is between $3 Million to $5 Million.
Malu Trevejo is a Cuban-American singer whose mother is Cuban and father is Spanish. She has American nationality. She has a libra birth sign and black hair and eyes. Malu's body measeurement is 34-25-35 inches. In addition, her favourite destination is Paris.