Donald Hugh Henley is an American musician and a founding member of the rock group Eagles. He was born on July 22, 1947. He served as the Eagles' drummer and co-lead vocalist from 1971 until the band's dissolution in 1980, and he has continued to do so since 1994 during the reunion tours. On Eagles singles including "Witchy Woman," "Desperado," "Best of My Love," "One of These Nights," "Hotel California," "Life in the Fast Lane," "The Long Run," and "Get Over It," Don Henley provided the lead vocals.
Henley found a solo career after the Eagles broke up in 1980, and he released his debut album, I Can't Stand Still, in the year 1982. He has also published five studio albums, two compilation albums, and a live DVD. thus, he is a great success. The Boys of Summer, "All She Wants to Do Is Dance," "The Heart of the Matter," "The Last Worthless Evening," "Sunset Grill," "Not Enough Love in the World," and "The End of the Innocence" are a few of his solo singles.
Don Henley Songs
Johnny Can't Read
It is a 1982 song from I Can't Stand Still. This song, which served as the first single from Don Henley's solo debut, made it clear that his solo endeavours would not be an Eagles clone. It was far more The Cars-like in its twitchy New Wave vibe.
Dirty Laundry
This is a 1982 song from I Can't Stand Still. Even having two other Eagles (Joe Walsh and Timothy B. Schmit) contributing, Don Henley's groundbreaking solo song maintained the contemporary New Wave vibe. It focuses on tabloids and their voracious desire for celebrity blood, a subject he knew a little about.
The Boys of Summer
This is from Building the Perfect Beast, 1984. Also, this album and its follow-up were the pinnacles of Don Henley's solo career because they each produced seven Top 40 songs. With its incisive observations and rays of California sunlight, this song is a candidate for the definition of what a Henley song should be.
Sunset Grill
This is also from Building the Perfect Beast, 1984. Given that it was a little bit more epic and difficult than the others, Perfect Beast's fourth and final single didn't perform as well on the charts. It's the closest thing to a "Hotel California" sequel you'll find, though; it takes place in a bar in the same general area.
Who Owns This Place?
This is from the 1986 music for The Color of Money. There are not many lost Don Henley songs. But this is an excellent one that we have missed. He composed it for the Scorsese movie in 1986, when he featured it with brand-new songs by artists like Mark Knopfler and Eric Clapton.
Don Henley Young
Donald Hugh Henley took birth on July 22, 1947, in Gilmer, Texas, and grew up in the unincorporated community of Linden in northeastern Texas. Hughlene and C. J. Henley are his parents. He ancestors are of Scottish, English, and Irish line. Henley attended Linden-Kildare High School, where he initially participated in football. However, after his coach advised him to give up because of his comparatively small physique, Henley decided to join the band. Prior to joining the percussion department, he played the trombone. He first enrolled in college at Stephen F. Austin State University in Nacogdoches, Texas, after completing high school in 1965. From 1967 to 1969, he studied at North Texas State University in Denton, Texas. Henley took a leave of absence from school to be with his dying father, who had heart and vascular problems.
Henley could have joined a Dixieland band. So, this happened when he was still in high school. It was by the father of Richard Bowden, a childhood buddy, and another classmate, Jerry Surratt. The Four Speeds was the group they eventually created. The band underwent a series of personnel changes and underwent name changes in 1964, changing first to Felicity and then to Shiloh. As Felicity, they signed with a local producer and produced the song "Hurtin'," written by Henley. They stumbled into fellow Texan Kenny Rogers in 1969, who expressed interest in their band. They recorded a few tracks and changed their name to Shiloh. Their first song was "Jennifer (O' My Lady)"
Don Henley: Personal Information
Net Worth
American singer, songwriter, and drummer Don Henley has a $250 million fortune. Henley is most recognized for being one of the Eagles' founding members, an acclaimed American rock group. Henley is a skilled musician who can also play the guitar and the drums. He performs lead vocals as well.
Don Henley has had a very good career and is quite famous. Don Henley has gained a lot of recognition. Here is the information if you are one of those people that search for Don Henley's net worth. Don Henley's net worth is reportedly $250 million, according to metalshout.
Height
Don Henley has blue eyes and salt and pepper hair. He is also 79 kg in weight and 5 feet 10 inches or 1.78 metres tall.
Age
He is currently one of the most talented American musicians, singers, songwriters, and record producers. The birthdate is July 22, 1947. He's 75 years old now. He was born in the American state of Texas, in Gilmer.
Don Henley Albums
I Can't Stand Still
Greg Ladanyi, Danny Kortchmar, and the American singer Don Henley collaborated to make the 1982 Asylum Records album I Can't Stand Still. Henley's debut solo album explores his frustrations at the moment through its message.
Cass County
The sixth solo studio album by Don Henley is titled Cass County. Under the auspices of Capitol Records and Past Masters Holdings, he published it on September 25, 2015. 11 years after the publication of the album Inside Job in 2000, Henley returned with this album after a lengthy hiatus.
Inside Job
Henley made his fourth solo music release, Inside Job, under the Warner Bros Record Label in 2000. Before the release of the 2015 Cass County, it was the American singer's first solo album in more than 11 years and his last studio album with all-new material.
The End of the Innocence
The third solo studio album by Don Henley is titled The End of the Innocence. He published it 11 years before he released Inside Job, his fourth studio album, and was made under the Geffen Records label to commemorate the conclusion of his 1980s musical heyday.
Building the Perfect Beast
Building the Perfect Beast was Don Henley's second studio release. On November 19, 1984, the Geffen Records label issued it. It quickly gained a reputation as one of the 1980s' best albums after its debut. The album includes songs that are more geared at adults, including the singles Sunset Grill, Boys of Summer, and a number of other songs that fans of light rock or pop would love. We can also see that the album made the 73rd position on "The 100 Greatest Studio Albums of the 1980s" list by Rolling Stone magazine in 1989.
Is Don Henley Still Alive?
Don Henley is still going strong and is 75 years old. Don Henley's representatives officially declared him to be alive on Wednesday, August 31. He is now on the long list of famous people who have fallen for this scam. He is still in good health. Some fans are upset about the false claim, calling it careless, upsetting, and damaging to the singer's huge followers. Others claim that this shows his great widespread appeal.
Is Don Henley Married?
Henley chose the Texas model as his long-term partner after his connection with Stevie Nicks. They have been married for 21 years and are parents to 3 kids. With a $200 million fortune, Henley was thought to be the fourth wealthiest drummer in the world in 2012, behind Ringo Starr, Phil Collins, and Dave Grohl. As a result, he wed fashion model Sharon Summerall. Henley and Summerall are now proud parents to three adorable children: Annabel, Julia, and Will Henley, according to Wide Open Country. Currently, the Henley family resides in Dallas, Texas.
In order to raise their kids away from the spotlight, Henley and Summerall moved from Los Angeles. Henley had relationships with a number of exceptional ladies before settling down with Summerall. In the middle of the 1970s, he was associated with jewellery designer Loree Rodkin. Henley then began dating Stevie Nicks, a member of Fleetwood Mac. Over the course of nearly two years, they had on-and-off relationships.
Don Henley and Glenn Frey
Don Henley, who was raised as an only child, discovered in Glenn Frey the brother he never had. The two Eagles that put the greatest effort into each and every note they recorded were Don and Glenn. Henley and Frey would have the last say on which songs ended up on their CDs since they saw the other musicians as inferior to themselves. almost always One notable exception was Henley's agreement to incorporate Bernie Leadon's "I Wish You Peace" from 1975's One of These Nights despite his dislike of it in order to maintain harmony within the band.
Henley was the intellectual, book-loving introvert; Frey was the boisterous, sports-obsessed extrovert. Like Lennon and McCartney, who they are frequently compared to, the two enhanced one another. Frey dominated the early years of the band and spoke almost exclusively onstage. Henley gained popularity over time, though, thanks to his instantly recognizable voice and great songwriting. When The Long Run was released in 1979, Frey only took lead vocals on the No. 1 hit song "Heartache Tonight." Glenn never expressed any outward jealousy of Don's escalating power.
However, there was also a gulf between Henley and Frey. Some of Frey's solo songs, in Henley's opinion, were corny when the band was still together. Henley previously blasted Frey for spending more time on the golf course than in the studio during the arduous recording process for 2007's Long Road Out of Eden.
Don Henley and Cheryl Crow
After the success of her breakthrough album Tuesday Night Music Club, which featured the singles "All I Wanna Do" and "Strong Enough," Sheryl Crow has been making music professionally for 24 years. Crow, however, began her career as a performer much earlier, fronting a college cover band and singing backup for artists like Michael Jackson and Don Henley. And because of her tenacity and always improving songwriting and singing abilities, it has survived longer than most of her contemporaries. The summer tour for Crow's recently released album, Be Myself, includes performances this week in New York City and a spot on Willie Nelson's touring Outlaw Music Festival.
Don Henley & His Wife Sharon Summerall
Don Henley, an American singer-songwriter, drummer, and lead vocalist for the band "Eagles," is married to Sharon Summerall. Sharon worked with a few renowned modelling agencies in Chicago and Paris during her modelling career. She was later afflicted with multiple sclerosis, therefore she was unable to establish a successful modelling career.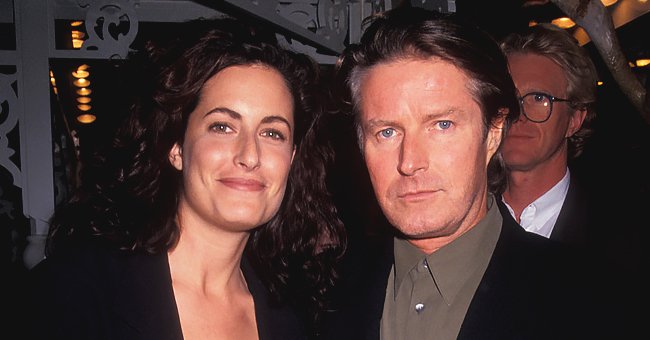 When she first met Don, she was already in the middle of treatment. After dating her for a few years, he finally married her, having supported her throughout her ordeal. The vocalist and drummer for the band "Eagles" previously called off an engagement as well as other failed relationships. He did, however, meet Sharon, his true love. After 20 years of marriage, the two are still going strong. Don and Sharon have three kids. Currently, they reside in Dallas, Texas.
Don Henley FAQs
Does Don Henley still have a wife?
Don wed Sharon Summerall in 1995. Bruce Springsteen, Sting, Billy Joel, John Fogerty, Jackson Browne, Sheryl Crow, Glenn Frey, and Tony Bennett were among the musicians that sang during their nuptials. They have three kids together: Annabel, Julia, and Will, and Summerall has been diagnosed with multiple sclerosis.
How many Eagles are still around today?
The three surviving Eagles from the last lineup—Henley, guitarist Joe Walsh, and bassist Timothy B. Schmit—all 69 years old—will receive Kennedy Center Honors on a certain Sunday.
Did Stevie Nicks and Don Henley date at any time?
After Henley had ended her romance with Fleetwood, she started seeing Nicks for a brief period of time. Because of how quickly they fell in love, Henley briefly considered getting married to Nicks. Nicks had a baby with the Eagles member in 1979, but she chose to abort the child at the time.
Is Don Henley a leftist?
Don Henley has been a longstanding supporter of the Democratic Party and a substantial contributor to their political campaigns.
How much money do the Eagles make at a show?
One of the most famous and richest bands in the world is The Eagles. So, the band's "An Evening with the Eagles" tour, which is around $3.5 million in ticket sales each show, is a large portion of their income.
Why did the Eagles band split up?
The legendary band from the 1970s disbanded in 1980 when two of its members exchanged physical threats of harm while performing in front of a crowd.