Arielle Kebbel is a popular actress and former model, hailing from America. The majority of today's youth are familiar with Kebbel, thanks to the epic TV series – The Vampire Diaries (TVD). Besides, she has also acted in many other TV shows. These include Gilmore Girls, Life Unexpected, 90210, Ballers, Midnight Texas, and Lincoln Rhyme: Hunt for the Bone Collector. Additionally, Kebbel has starred in a number of movies that made their debut at prestigious film festivals. She is famous for her roles in Hallmark Channel movies. To name a few, I Melt With You, John Tucker Must Die, The Uninvited, and Think Like A Man.
Arielle Kebbel, who is naturally blonde and has brown eyes, is a beauty with brains. She graduated from high school with a 4.3 average a semester early. Ever since she has remained grounded and is still focused on her successful career. Kebbel is a veteran of the acting world with a long list of fans who adore and support her. With time on her side, this beauty has totally evolved into a fine actress. She has amassed a sizable fan base on her social media channels. If you are eager to know about Kebbel's life, then worry not – you have landed at the right place. Ahead, we shall cover key facts about her acting career as well. Scroll over and read on to find out everything about Arielle Kebbel.
Arielle Kebbel Personal Life
Born in Winter Park, Florida, on February 19, 1985, Kebbel's real name is Arielle Caroline Kebbel. Torrey DeVitto, another famous actress raised in Winter Park, Florida, is a close friend of hers. In addition, she is also a dear friend of Leonard Nimoy.
Kebbel's ancestry is primarily German and Swiss German though. Her nationality is American. She grew up alongside her siblings, Christian and Julia Kebbel, in Winter Park, Florida, U.S. Sheri Kebbel, her mother, runs a production company and is a talent manager. That clarifies how she initially entered the entertainment world.
Arielle Kebbel Modeling Career
Kebbel completed her education at Winter Garden's Crenshaw School. Furthermore, she finished as the Miss Florida Teen USA's first runner-up in 2002. Henceforward, Kebbel worked as a model full-time before deciding to become an actor. The Lisa Maile Image, Modeling & Acting School in Florida served as her training ground. Since then, she has made various magazine features. Notable ones are Maxim, H, Lucky, Men's Health, Stuff, FHM. Vegas, Bello, and Razor.
Arielle Kebbel Acting Career
Arielle Kebbel in Gilmore Girls
Kebbel had a successful audition for her first big role as Lindsay Lister on The CW's Gilmore Girls. This took place within the first week of her relocation to Los Angeles, California. Further, she starred in recurring episodes for the third, fourth, and fifth seasons. The mother and daughter bonding served as the central theme of this series.
Arielle Kebbel TV Shows
Furthermore, Kebbel also made brief cameos on the TV shows CSI: Crime Scene Investigation and Judging Amy. Additionally, she contributed to TV shows like Marcy, Law & Order: Special Victims Unit, Grounded for Life, The League, and Entourage. Football Wives and No Heroes were two ABC pilots in which Kebbel involved herself.
Kebbel in Soul Plane
In the hip-hop comedy Soul Plane from 2004, she teamed with Kevin Hart, Tom Arnold, and Snoop Dogg. Directed by Jessy Terrero, this film was a flop in terms of box office and met with dismal reviews.
Kebbel in Reeker
Subsequently, Kebbel showed up in Dave Payne's horror movie Reeker in 2005. The plot revolves around a group of young people who get stuck on an eerie travel oasis in the desert. There, they meet a scary, decaying creature and start getting visions of dying people. The movie received mixed reviews from critics.
Arielle Kebbel in The Grudge 2
After starring in one of the lead parts in Takashi Shimizu's American horror sequel The Grudge, her fame soared. Even though the movie did well commercially, critics gave it negative reviews. Kebbel's presence in The Grudge 2 with Teresa Palmer and Sarah Michelle Gellar hit the screens in October 2006. Tokyo, Japan, served as the location for its filming. The movie is a follow-up to the horror remake of the Japanese original The Grudge from 2004. Kebbel essayed on the role of schoolgirl Allison Flemming. The movie was a box office hit, nevertheless. It ended up earning over 70 million USD globally against the production budget of 20 million USD.
Arielle Kebbel in John Tucker Must Die
Moreover, in the romantic comedy John Tucker Must Die from 20th Century Fox, she portrays Carrie Schaeffer. This is undeniably one of Arielle Kebbel's most significant roles. Directed by Betty Thomas, the film revolves around three girls. After discovering that John Tucker had been dating them all together, they prepared to exact revenge. On July 28, 2006, it had its release in North America. Although there were conflicting reviews, the movie was an economic success. Thus, it has since grossed a total of 68 million USD.
Arielle Kebbel in Aquamarine
Besides, Kebbel agreed to work on Aquamarine, another 20th Century Fox movie with Sara Paxton, Emma Roberts, and JoJo. Therefore, she essayed the role of Cecilia Banks, the villain of the movie. However, the movie opened in theaters in March 2006 to a bland box office haul of 23 million USD.
Kebbel in Forever Strong
She co-starred with Penn Badgley, Sean Faris, and Neal McDonough in the 2008 sports drama Forever Strong as Emily Owens. Its filming took place in Salt Lake City in August 2006. Nonetheless, after John Tucker Must Die, this was Badgley and Kebbel's second movie together. Further, on September 26, 2008, a straight-to-DVD release of the movie took place.
Kebbel in Freakdog
In 2008, Kebbel portrayed Katherine, the lead character, in the horror movie Freakdog with Sarah Carter. However, the movie had a brief theatrical run before being swiftly made available on DVD in February 2009. On the contrary, the movie received a poor response from everyone.
Kebbel in A Tale of Two Sisters
Furthermore, Kebbel played Alex Ivers in the American version of the South Korean horror movie A Tale of Two Sisters. Paramount Pictures announced this in March 2008. Elizabeth Banks and Emily Browning were her co-stars. Moreover, late 2008 saw its filming in Vancouver, British Columbia. Despite the cast's efforts, reviews were mostly mixed and negative. The movie took in 40 million USD globally.
Kebbel in Brooklyn Brothers
In addition, Kebbel starred in the comedy The Brooklyn Brothers Beat the Best. The movie had its world premiere at the 2011 Toronto International Film Festival on September 9. It had a wide release in 2012. Ryan O'Nan's directorial debut starred Michael Weston, Andrew McCarthy, and Jason Ritter besides Arielle Kebbel.
Arielle Kebbel in The Vampire Diaries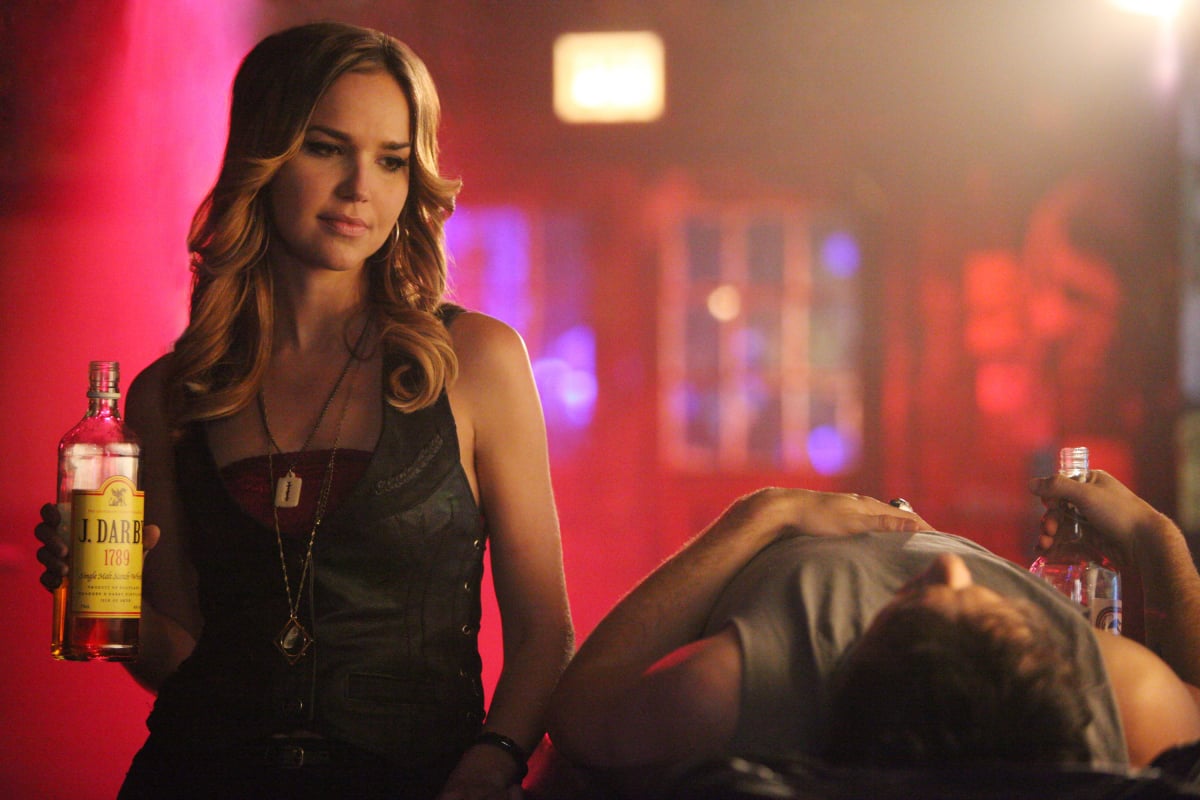 After her recurring role in the widely popular supernatural TV series The Vampire Diaries as Alexia Branson, her fame multiplied. It derived its name and plot from the book series of the same name. After losing her parents, a teenage girl meets and falls in love with a 162-year-old vampire. An unusual romance set in a fictional town was the focus of the show. The series met with major success and received numerous accolades. Nevertheless, each of the cast's careers indeed catapulted, thanks to it.
Arielle Kebbel Movies
In addition, Kebbel also played a key role in the movie American Pie Presents: Band Camp. She also has a major part in the action movie Outlaw Trail: The Treasure of Butch Cassidy in 2006. Furthermore, Kebbel starred in the drama TV series Life Unexpected in 2010. Moreover, she had a vital role in the film Vampire Suck.
Additionally, Kebbel played Vanessa in season four of 90210 starting in December 2011. Besides, she made a cameo on Hawaii Five-0 in the season three episode Popilikia in October 2012. She also made a recurring appearance on 9-1-1 as rival Firehouse 147 firefighter Lucy Donato.
Answer This!, The Kid & I, UnREAL, Mardi Gras: Spring Break, True Blood, Think Like a Man, Grand Hotel, Shark, Audrey, Grace, Freakdog, Fifty Shades Freed, First Dates with Toby Harris, Instant Mom, Robot Chicken, Supporting Characters, Good Vibes, Grounded for Life, and Clubhouse are among her notable works. Furthermore, she starred in the TV series Ballers in 2015.
Nevertheless, her role in the horror drama series Midnight, Texas is one of her most recent TV works. She plays Olivia Charity there. Additionally, she also starred in the main role in Lincoln Rhyme: Hunt for the Bone Collector. Actors Brooke Lyons, Russell Hornsby, Claire Coffee, and Ramses Jimenez were her co-stars in the film. Moreover, the Hallmark movie A Brush with Love and Bridal Wave are among Arielle Kebbel's latest works.
Arielle Kebbel Awards and Achievements
Kebbel was a contestant in the 2002 Miss Florida Teen USA pageant.
Additionally, for her role in the horror film The Grudge 2, Arielle Kebbel received a Teen Choice Award nomination.
She came in at #54 on the list of the 100 Sexiest Women In The World, published by the Croatian FHM Magazine in 2008.
Arielle Kebbel ranked #95 on the 2005 Maxim Magazine Hot 100 list. Moreover, she also stood #48 on the 2009 Maxim Magazine Hot 100 list.
Arielle Kebbel Net Worth
Well, Arielle Kebbel has a probable net worth of 4 million USD. Her work as an actor and model is her primary source of income. Kebbel's superb career has allowed her to enjoy lavish lifestyles and fancy car getaways. She is one of the most wealthy and famous American actresses.
Arielle Kebbel Charity
Kebbel works with the non-profit A Place Called Home (APCH) in addition to her performing career. Located in South Central Los Angeles, APCH is a youth center that aids people aged 9 to 20. The center provides support in battling the damage and despair of living in regions plagued by poverty and crime. Currently, the facility serves over 2,500 youngsters.
Arielle Kebbel Boyfriend
To put it mildly, Arielle Kebbel's dating history is pretty rocky. Firstly, she dated Brahman Turner from 2004 to 2006. After her breakup, she and Kevin Connolly seemingly had an affair in 2010. Further, she dated Aaron Bay Schuck in 2012. Moreover, she dated American polo player Nic Roldan from 2017 to 2019. She and Nic reportedly spent a lot of quality time together and shared such pictures on their social media profiles. However, a short glance through her Instagram reveals that there aren't many images of the concerned man presently.
Nevertheless, recent reports have created an air of enigma. A report even claimed that she was dating someone in June 2020. Although the report doesn't name anyone, it does make mention of a June 25 Instagram post that made things official. Oddly, her feed contains no post with that man now.
It is hard to say what Arielle's romantic status is at the moment. Her love life is a discussed topic on her social media. Thus, this has led to a confusing web of varying rumors and gossip. Whatever the case, she wants to avoid the media's attention and rumors by keeping her personal life private.
Arielle Kebbel FAQs
Who is Arielle Kebbel?
Arielle Caroline Kebbel, popularly known by her stage name Arielle Kebbel is a famous actress. Through modeling and acting, she amassed a 3 million USD fortune.
How old is Arielle Kebbel?
Born on February 19, 1985, the actress is 38 years of age.
Where does Arielle Kebbel live?
Kebbel is a native of Florida.
How much does Arielle Kebbel weigh?
Kebbel weighs 121 lbs or 55 kg.
What is Arielle Kebbel's height?
Arielle Kebbel's height is 5'8″ or 1.73 m.
What is Kebbel's marital status?
The former model is unmarried. Whether she is dating or not, is a detail she likes to keep under wraps though.
Does Kebbel have an education?
Kebbel has received a high school diploma from Crenshaw School.
What is Kebbel's zodiac sign?
Her sun sign is Aquarius.
What is Arielle Kebbel's net worth?
The actress is worth 4 million USD.