Dany Garcia took birth on 29th November 1968. She is an American businesswoman, producer as well as a professional IFBB bodybuilder. Moreover, she is the chairperson of the Garcia Companies and TGC Management and also founded GSTQ. So, Dany Garcia oversees a number of brands in the entertainment and food business. These also include TGC Management. Teremana Tequila, Project Rock Collection, Seven Bucks Companies, and Athleticon at Under Armor, VOSS, Atom Tickets, Salt & Straw, ZOA Energy, Acorns, and the XFL.
Dany Garcia parents were immigrants from Cuba and had another daughter and a son. So, Dany Garcia grew up in Belleville, New Jersey, and then majored at the University of Miami in finance and international marketing. Hence, she graduated in 1992 with a bachelor's degree in Business Administration. First, she worked as an associate vice president at Merrill Lynch and then started her own management firm in 2002- JDM Partners LLC. However, when her ex-husband, Dwayne Johnson asked her to manage him, she let go of both the offices.
Moreover, in 2012, Dany Garcia co-founded Seven Bucks Productions which is a production company. They have produced quite some films that star Dwayne Johnson. So, to name some films that her company has produced are- Baywatch (2017), Jumanji: Welcome to the Jungle (2017), and Shazam! (2019), The Fast and the Furious spin-off Hobbs & Shaw (2019), Jumanji: The Next Level (2019), Jungle Cruise (2021), and Black Adam (2022).
Let us now take a look at the details of her personal and professional life.
Dany Garcia Age
So, Danny Garcia took birth on 29th November 1968 in Belleville, New Jersey, United States of America. Therefore, as of 2023, she is 54 years old. Over the years, she has had an illustrious career in the production, branding, and consulting business.
Dany Garcia Ethnic Background
So, Dany Garcia, as we already saw, was born to Cuban parents who had immigrated to the United States. She grew up in New Jersey and then went to Miami for a college education. Therefore, her ethnicity is Cuban-American. Moreover, the Latina follows the Christian faith.
Dany Garcia Net Worth
We already have got an idea that Dany Garcia is a shrewd and effective businessperson. Over the years, she has slowly but meticulously expanded her business empire. From being a fresh business graduate at Merrill Lynch to managing a superstar like The Rock to building a string of firms to her name, she has come a long way. As of 2023, her net worth as per different sources is a total of 40 to 70 million dollars. Therefore, she has earned this through her years of hard work in the consulting and production business. Moreover, her contracts with celebrities and agents also significantly add to her net worth, most of which comes via her production house.
So, she continues to produce the Rock's movies even after their divorce. Moreover, none of these are box office failures. Therefore, she does make a lot of money!
Dany Garcia Twitter
Yes, Dany Garcia is there on Twitter, like most other celebrities. So, she joined social media way back in July 2011. However, she follows only 50 people while having a following of 50.4k. Moreover, if you scroll down her page, you would find she mostly posts promotional stuff from the movies that she produces- trailers, teasers, dates, and so on. She also posts about events and magazine editions and XFL which she chairs and co-owns. So, she hardly posts any personal stuff. Indeed, she is a businesswoman in every sense of the word!
If you want to check her out on Twitter, follow her username @DanyGarciaCo.
Dany Garcia Instagram
So yes, Dany Garcia is there on Instagram as well. Moreover, her username here is also the same as that on Twitter. Therefore, you can find her out at @danygarciaco. Note that the capitalization is different. So, she has a follower count of 342k while she follows only 201 people. Moreover, her total number of posts is 1210 which means she is an avid poster. Her Instagram posts include both her personal and professional life, though not as much of the former. However, there are pictures of photoshoots and important events that she attended or milestones she achieved along with her business ventures. Moreover, she also has a string of highlights from enterprises to style to family. So, that is a complete package!
Moreover, her bio says "evolving". We cannot find a better word to describe her!
Dany Garcia Husband
So, Dany Garcia has had two marriages. As we all already know, she married Dwayne Johnson back in 1997 but the duo got divorced in 2008. However, she remarried in 2014. So, her second husband is Dave Rienzi.
Therefore, like Dany Garcia, he too is a bodybuilder and is also a brand consultant for the TGC Management fitness industry. Hence, the duo now lives alternatively in Los Angeles and Orlando. Moreover, they do not have any children as of now but they stay with four dogs. You might find their adorable and loving photos on the internet as well!
Dany Garcia Daughter
So, Dany Garcia had one daughter with Dwayne Johnson. She is Simone Alexandra Johnson. Therefore, she took birth in August 2001 and is soon to be 21 years old. Moreover, she was born in Dave, Florida in the United States. She is also Dwayne Johnson's oldest kid who has two other children. So, following the footsteps of her entire family, she took up wrestling. She is a fourth-generation wrestler for that matter. However, she is also set to make a difference in the world of pro wrestling. Moreover, she had signed with the WWE back in 2020 when was still a teenager. Since then, she has been training at the Performance Center of the company. Moreover, she has also unfurled her ring name in June, this year. So, this is going to be Ava Raine.
Along with these, she is also the first fourth-generation wrestler (from her father's side) to be in the WWE.
Dany Garcia and Dwayne Johnson
So, both Dany Garcia and Dwayne Johnson were students at the University of Miami. This was when they met and fell in love with each other. Therefore, they soon married in May 1997. Moreover, when Dany Garcia married The Rock Johnson, she got introduced to his famous Samoan Anoa'i family. So, this is a family that has produced outstanding WWE wrestlers for generations. All of these form one wholesome circle as apart from being a business tycoon, Garcia is also a passionate bodybuilder. In fact, Dany Garcia has said times and again in various interviews that bodybuilding has helped her to be resilient in her businesses. Therefore, this is a trait that she is surely proud of and mentions on all her social media sites.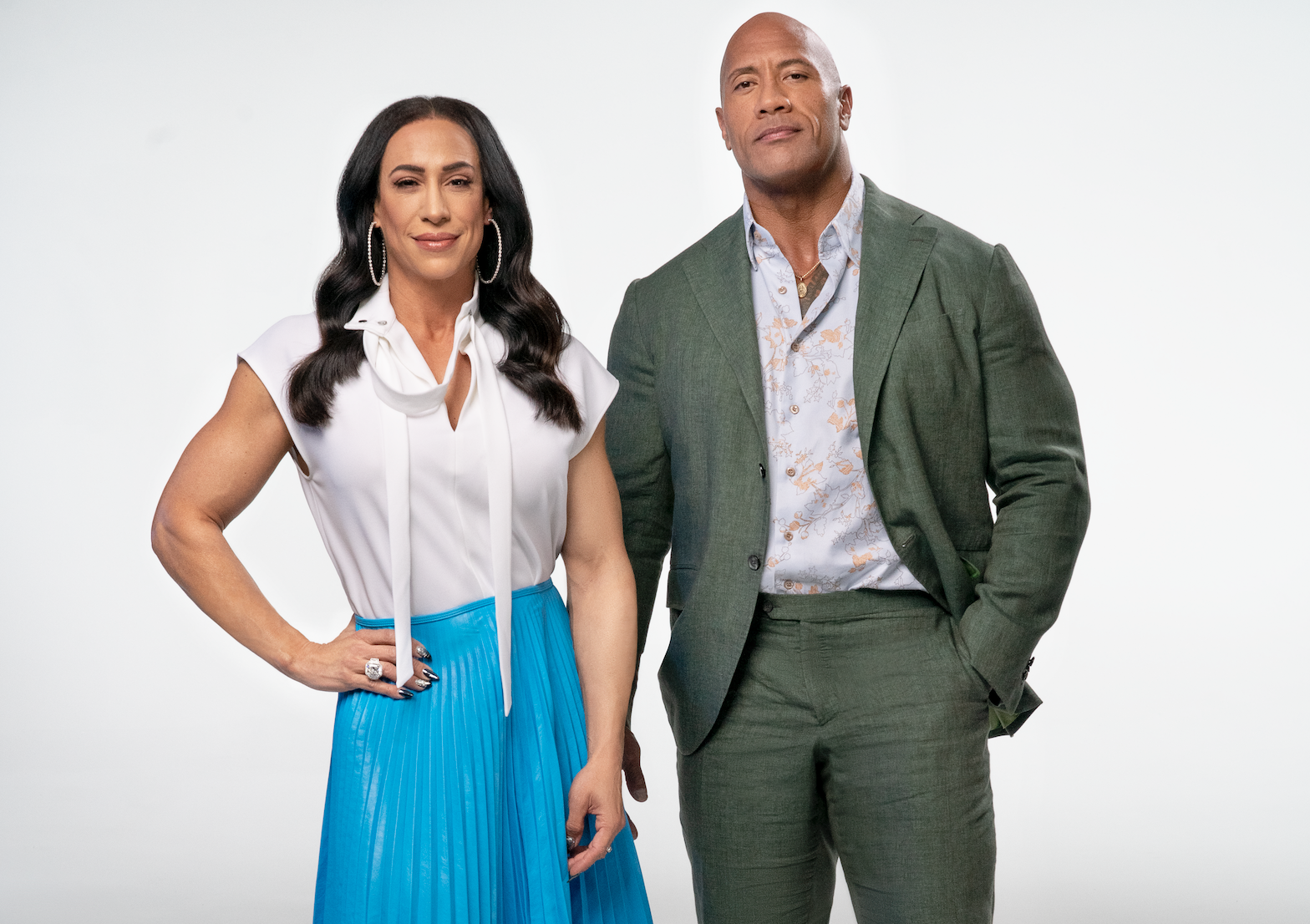 Moreover, they also have a daughter together as we already know- Simone Alexandra Johnson who is also a wrestler. After being in the marriage for 10 years, the duo announced an amicable divorce in June 2007. So, by May 2008, they had officially separated. However, since then, Garcia has been managing Johnson and producing his films. So, even though they are divorced, you can be sure that they have a great relationship. Moreover, Dany Garcia also often posts photos of them together from different events.
Dany Garcia Height
So, Dany Garcia is a Latina and a bodybuilder. Therefore, there is no doubt that she is beautiful as well as extremely strong and powerful. Hence, let us check her height. Her height is around 1.70m. So, that is around 5 feet 6 inches. This is not very tall or huge but it is a standard height with respect to ordinary women. Either way, her real strength lies in her muscles as well as in her brains.
Dany Garcia in Jumanji
So, yes Dany Garcia was the producer behind Jumanji: The Next Level.
Dany Garcia Contributions to XFL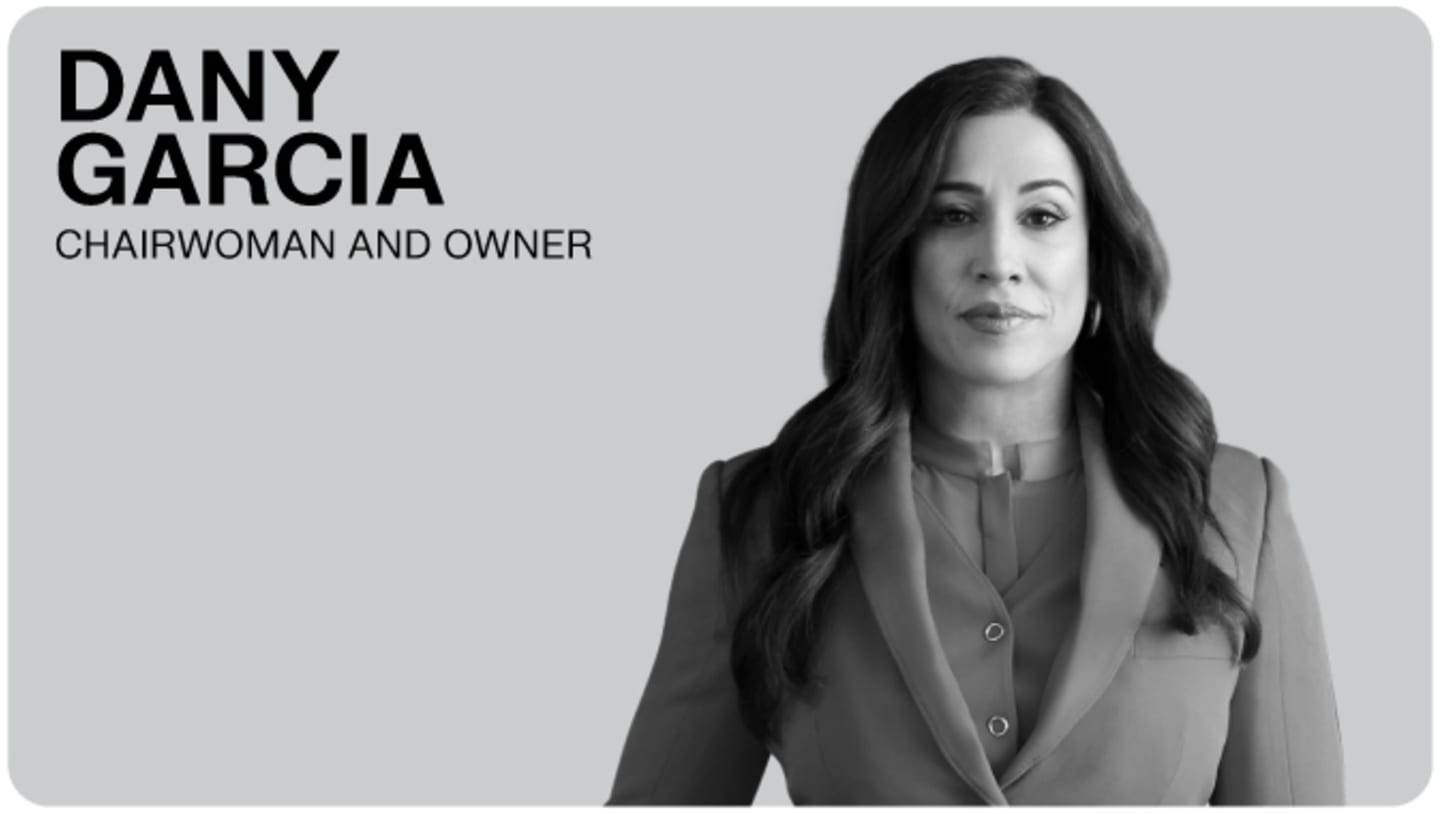 The list of Dany Garcia's achievements hardly falls short. So, she is also the co-owner and chairperson of the XFL. The XFL is a minor American football league that has 8 teams to play. Its President is Russ Brandon and its headquarters are in Stamford, Connecticut. However, in August 2020, Dany Garcia and Dwayne John together led a consortium. So, this bought the XFL because it was going bankrupt. Therefore, since then, she had been keeping people updated about the XFL on her social media.
Dany Garcia Bodybuilding Career
So, as per an interview, Dany Garcia was only 13 years old when she was leafing through the pages of a fitness magazine. Dany Garcia had decided to practice bodybuilding and has done so since then. Therefore, she is extremely passionate about it. Moreover, she competed for the IFBB Pro Card in 2011 for the first time. However, she won that in 2014. Along with this, she was also the first athlete in the Women's Physique Division who got signed to the Weider roster. Moreover, Garcia and Johnson have also made a lot of news in the bodybuilding sector recently. So, they created a new fitness weekend which they call Athleticon. It is the style of Olympia or Arnold. Therefore, it started operating in October 2020, during the pandemic. Currently, she trains under her extremely devoted husband Dave Rienzi at the Rienzi Strength and Conditioning in Sunrise, Florida.
For her, bodybuilding and weightlifting are a part of her life. So, she has said in interviews that hard training has brought a lot of things in her life- strength, relentlessness, and of course great health. She is very competitive but this is not what she ever wanted to have as her sole career prospect.
And so, we have a complete package here- from a ravishing businesswoman to a passionate bodybuilder!
Dany Garcia FAQs
Who is Dany Garcia married to?
Well, Dany Garcia is currently married to Dave Rienzi. So, Dave is a consultant for her fitness company as well as the owner of Rienzi Strength and Conditioning in Sunrise, Florida. Therefore, it is under him that she trains for her bodybuilding prospects. So, they got married in 2014 and live together with their four dogs. To know more, follow the section that reads "Dany Garcia's husband."
Why did Dany and The Rock split?
So, Dany and The Rock Johnson split amicably without any hard feelings. However, The Rock did confess that both of them had certain expectations from their marriage. But, none of them were able to meet them for several reasons. So, for both of their betterment, they agreed to divorce. However, they have a daughter together- Simone Alexandra Johnson who has become a successful wrestler now. Moreover, they continue to work together. Therefore, they have also remained friends and have helped each other through the ups and downs of their careers and just life in general.
Is Dany Garcia still The Rock's manager?
So, in the beginning, Garcia was the manager of The Rock Johnson. However, currently, she is now his Global Strategic Advisor. Despite being divorced, they have not remained just friends but also great business partners. So, their companies have significantly grown in each other's presence. Therefore, two of their most famous and prized enterprises that they co-own and run together are the XFL and the Seven Bucks production company.
Where does Dany Garcia live?
So, Dany Garcia lives with her current husband, Dave Rienzi. They split their time between Florida and Los Angeles. So, in Florida, she practices her bodybuilding and trains under her husband. On the other hand, in Los Angeles where her production company and major businesses are based.
Is Red Notice Hit or Flop?
Red Notice was a huge hit. So, the box office collection was $178k while Netflix bought the rights for $200 million. Moreover, there have been 328.8 million hours of viewing the film on Netflix which is no joke!
What is Dany Garcia's net worth?
So, the 54-year-old Latina Dany Garcia has earned a lot out of her extraordinary business skills. Therefore, as of 2023, Dany Garcia's net worth lies somewhere between 50 to 70 million dollars.